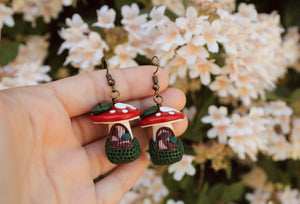 Our handmade Casita Amanita Earrings are inspired by the colorful and vast mushroom life in the forests of the Pacific Northwest. As soon as the fungi met my eye, I felt a deep sense of belonging, and was compelled to create the "Amanita House". 
Everything from Puka Tutis is handmade with love and care, so please allow 2-3 days processing time. We ship USPS First Class Package, which usually arrives within 1-3 business days, however there may be varying delays due to Covid-19.

(Keep in mind that due to the hand-made nature of this product, each pair may include minor variations.)

Customer Reviews
02/13/2021
Beautifully crafted and delicately packaged!
These are absolutely beautiful, the fine detail of the gills and the door blew me away. These exceeded my expectations and arrived so quickly! They were packaged so carefully and with clear intentions, Puka Tutis included stickers and crystals with the earrings which was so thoughtful. I was overwhelmed with joy receiving this package, and the energy that came with the casita amanitas was so pure and full of good intentions. I can't recommend Puka Tutis' handmade nature creations enough! ❤️
kayla j.

United States
02/08/2021
My new favorite earrings!
These earrings are so well made, you can tell the artist has genuine passion/love for what they do, through the attention to detail and magical design! These earrings are EASILY my favorite in my collection (and that is saying something because I own a lot of earrings). I have received so many compliments on them, and I always share her website because she deserves all the support! This shop owner is incredibly kind and down to earth, a bright light of a person. I will definitely be purchasing the matching pendant necklace once it's available, and will continue to support her one of a kind art in the future
jules k.

United States
02/07/2021
Amazing!
I love my Casita Amanda earrings! They're a conversation starter anytime I wear rhem! They call attention with their cuteness and quality. Not too heavy but they have a nice weight! Ive had mine for about a month and they look amazing!
Any R.

United States